Water Softeners
What Are You Looking For?
Why Buy A Water Softener?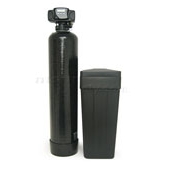 If you have high levels of disolved calcium, magnesium, and other minerals in your water - you have "hard water". Hard water is known to clog pipes, make soaps and detergents innefective, and cause stains on household surfaces. Water softeners remove the undesirable minerals in your water through a process called "ion exchange." Essentially the calcium and magnesium ions are exchanged for sodium ions. The softened water that now enters your home will protect your plumbing. You will use less soaps and detergents. Your appliances will last longer. Your skin will feel softer and cleaner after bathing. These are just some of the benefits of soft water!
With a little plumbing knowledge - you can install your own water softener!