Drinking / RO System Faucets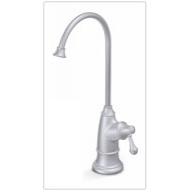 The only part of your drinking water system that you will see is the faucet. You want it to look good - don't you?
Choose from our extensive line of replacement faucets. If you are buying a faucet for your reverse osmosis system - you may want to make sure the faucet has an
air gap
, which prevents cross contamination between your waste line and drinking water feed. If the faucet is just being used for drinking water system - you don't need to worry about an
air gap
.
Featured Brands:


Looking for a particular finish on your faucet?
Select the category on the right that matches the finish you desire.