Filter Housings
What Size Do You Need?
Housings Are Universal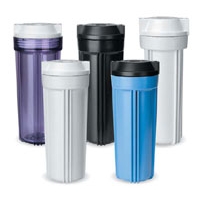 Filter housings provide a "home" for your water filter. They also provide an inlet and outlet for a water line. Housings will typically have a threaded female connection on either side that match standard male threaded plumbing fittings. You can choose the type of connection to make - using anything from traditional copper to quick disconnect fittings.
See the list on the right - pick the connection size that is right for you.
1/4" OD - Often used for RO Systems, fridge and ice machine connections - essentially a single point-of-use location
3/8" - OD - Normally the size of your undersink cold water supply line - used for RO and drinking water systems - provides better water pressure than 1/4" and is being used more often with new appliances and systems
1/2" OD - Used for point-of-use applications where there are multiple fixtures
3/4" OD - Whole house systems
1" OD -Used for large whole house systems and systems with multiple housings
Common Housing Terms:
NPT - this stands for National Pipe Thread and describes a uniform standard for tapered threads used to join pipes and fittings
Integral Bracket - some housings have "keyhole" mounting holes molded into the cap, which means no additional mounting bracket is needed to attach the housing to the wall
Pressure Relief - if you see a red "button" on the top of the housing - is probably for pressure relief. The button is pushed to relieve line pressure before changing the filter
Monitored Housings - these housings come with integrated pressure gauge that indicates when it's time to change the filter
Valve-In-Head Housings - these housings have an integral valve that closes both inlet and outlet ports simutaneously, making cartridge changeouts quick and easy
"Big Blue" - this term refers to heavy-duty housings that accomodate 4.5" filters - big blue housings can be 5", 10" or 20" in length and are noticeably "fatter" than standard housings and are usually used for point of entry (whole house) applications
Slim Line - these housings are normally used for point-of-use applications and take up less space than standard housings