Brita On-Tap Basic Faucet Filtration System (OPFF-100)
Brita 35214 | Our#: 172442
This is the classic Brita faucet-mounted filtration system that installs in minutes and lets you switch between filtered and unfiltered water with the flip of a switch.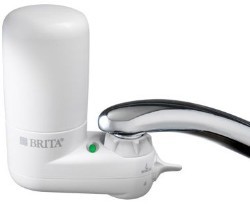 The Brita OPFF-100 uses the same filtering mechanism as the newer FF-100 system, but does not have an electronic filter change indicator. The OPFF-100 uses a mechanical meter to monitor the amount of water that has been dispensed from the system, and slowly rotates an indicator from green to red (which indicates that you should change your filter). The FF-100 uses an electronic LED to indicate when the filter should be changed (and costs quite a bit more than the OPFF-100).

Brita part # 35214
---
Brita Water is Better Water
Brita is the world's #1 brand of household water filtration. Our advanced technologies transform ordinary tap water into healthier, great-tasting drinking water. Brita's multistage filter reduces harmful contaminants (see table below) and has an added layer to trap sediment, so all that's left behind is great-tasting, cleaner water.
Great Value & Convenience
Attaches easily in minutes
No tools required
Fits all standard faucets
Includes 1 Filter
Quick and easy filter replacement
Contaminant Reduction
| | | |
| --- | --- | --- |
| Reduces These Harmful Chemicals | Source | Potential Health Effects |
| Lead | Corrosion of household plumbing systems; erosion of natural deposits | Infants and children: Delays in physical or mental development. Adults: Kidney problems; high blood pressure |
| Asbestos | Decay of asbestos cement in water mains; erosion of natural deposits | Increased risk of developing benign intestinal polyps |
| Total Trihalomethanes (TTHMs) | By-product of drinking water disinfection | Liver, kidney or central nervous system problems; increased risk of cancer |
---
The Brita OPFF-100 Faucet Filtration System has been tested and certified by NSF international, the nation's leading testing authority for water filtration products against:
NSF/ANSI Standard 53 - Health Effects - Reduction of: Lead, Cysts (Cryptosporidium and Giardia), Asbestos, Turbidity, o-Dichlorobenzene, Alachlor, Atrazine, Carbofuran, 2, 4-D, Chlordane, Heptachlor epoxide, Lindane, Methoxychlor, Trichloroethylene, Styrene, Toxaphene, Chlorobenzene, Benzene, Endrin, Carbon tetrachloride, Simazine, Toluene, Tetrachloroethylene, Ethylbenzene, TTHM, VOC
NSF/ANSI Standard 42 - Aesthetic Effects - Reduction of: Chlorine (taste and odor), Particulate (Class I)