Rusco 1" Spin Down Sediment Filter w/ 60 mesh screen
Rusco 1-60-F | Our#: 176287
Rusco 1" Spin Down Sediment Filter w/ 60 mesh screen
RUSCO's spin down sediment filters make solid particle removal simple and economical. Rusco systems will accomodate 1", 1-1/2" and 2" PVC connections. The unique feature of the Rusco sediment removal system is that is can be flushed out and reused over and over.
This filter system uses a 60 mesh filter element. 60 mesh is around 250 microns, which is comparable to fine sand. Human hair or a grain of salt is about 75 - 100 microns
This 1" filter system is 11-1/2" tall, 5" wide, and 3-1/4" deep. The replacement mesh screen is 5-1/4" tall and 1-1/8" diameter.
Common installation of this filter housing would use a 1" PVC glue bushing, or simply glue a 1" PVC pipe directly into the glue socket at the head of the filter. Using a bushing will allow a connection of a smaller pipe size, 3/4 or 1 inch, and a threaded bushing ( 1" glue X 3/4" female pipe thread ) would allow the connection of a different pipe material, like copper, cpvc or pex.
NOTE : For simplicity, we only stock 1" replacement mesh screens in 60, 100 and 500 sizes.
Features :
Unique element design traps sediment in lower portion of the clear housing
Clear housing can be easily removed without tools for cleaning
Clear housing makes for an easy visual to know when flushing is needed
A PVC ball valve allows for easy on / off for flushing the sediment out
Rusco incorporates a centrifugal spin down action for sediment removal
Many mesh / screen sizes to choose from
No filter cartridges to replace
Compact size utilizes very little space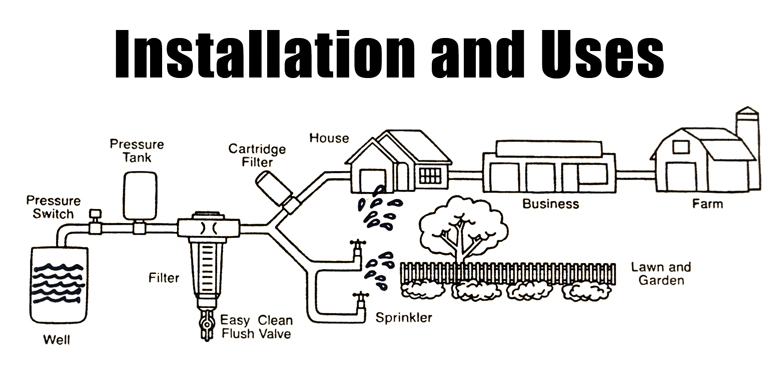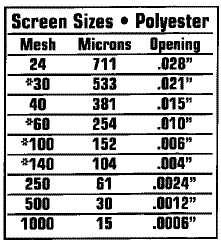 Specifications
| | |
| --- | --- |
| Capability | use any size mesh for !" Rusco housing |
| Connection Size ( In & Out ) | 1" PVC glue / socket connection |
| Dimensions ( overall w/ valve ) | 11-1/2" tall, 5" wide, 3-1/4" deep |
| Materials | Polypropylene |
| Maximum Pressure Rating | 125 psi |
| Maximum Temperature | 100 degrees |